CAST:
Ian McKellen
Tom Bell
Ken Shorter
plus others - see cast list

CREATIVES:
Writer - Martin Sherman
Director - Robert Chetwyn
Music - Andy Roberts
Lighting - Robert Bryan
Design - Alan Tagg

< click images to enlarge >

" The song was was called 'Streets Of Berlin' and sung by the club owner, Greta, whilst sitting on a sparkly trapeze. "
Bent was a piece I wrote the music for in 1979, when it was shown first at the Royal Court Theatre, and which then transferred to the Criterion theatre for 7 months, the first openly gay play to appear in the West End.   I was approached in the spring by the director, Robert Chetwyn, whom I had known for several years, as he was the long-term partner of Howard Schuman, who wrote the book and lyrics for Censored Scenes From King Kong, which had first been produced in London in 1977.   It wasn't a musical piece at all, but there was a very prominent song in Act 1, Scene 2, which took place in a gay club in Berlin in 1929.   It was sung by the club owner, Greta, whilst sitting on a sparkly trapeze, and was called Streets Of Berlin.   Greta was played by Ken Shorter.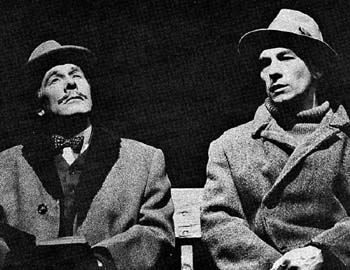 I thoroughly enjoyed getting the tone of the song right.   I made contact with John Willett, a good friend, who wrote the book Art In A City, published in 1967, the first book to chronicle the poetry, theatre and art scene in Liverpool.   That was even before the Liverpool Scene book.   As well as being a hugely respected critic, John was the foremost translator of the work of Bertholt Brecht, so he was an ideal contact to discuss Bent with.   He arranged for me to research in the library at the Goethe Institute in London, and also introduced me to Mischa Spoliansky, who was a Russian composer who had worked in Berlin in the 20s, written for Marlene Dietrich, and was gay and a Jew.   Mischa fled the Nazis in 1933 and moved to London.   These were riches, indeed, and I was proud of the setting I came up with for Martin Sherman's lyric.
When I joined the company, Ian McKellen was already cast in the lead role, but the second lead, who didn't appear until the second act, which took place in a concentration camp, was only cast after a lot of searching.   This was Tom Bell, pretty much cast against type, as he had a reputation for hard-bitten gangster-type parts.   Tom had been huge in the 60s, but had lost traction because of a well known drinking habit, and a few public misdemeanours (he heckled Prince Philip at an awards ceremony).
Wikipedia says this - "Although he tended to eschew live performance, his few stage appearances included a rôle in the 1979 UK première of Bent, Martin Sherman's play about homosexuality, staged at the Royal Court Theatre. He played the character Horst opposite Ian McKellen's Max. The play's setting of homosexuals and love in a Nazi death camp was shocking for many theatre-goers at the time and uncovered a previously little-examined area of Nazi brutality."
The other notable thing about Bent, for me, was that it was the first time I worked with Antonia Bird, who was appointed by the Royal Court Theatre as assistant director.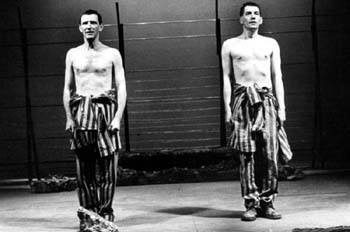 My song was only used in the London production.   When the play opened on Broadway in 1980, there was a different score.   Martin Sherman had told me when we rehearsed the original that it was his intention to give a new composer a commission to write the song whenever it was produced.   Adrian Henri always loved my version, and would request that I put it in the set of shows that we played in the 80s and 90s.
To the left is a scan of the dedication, that Ian gave me the night we opened at the Royal Court!  
ANDY ROBERTS
NOVEMBER 2018