POETRY
"We started getting things like a spot on the BBC2 arts programme 'Look At The Week' - 5th March 1967, so it was a bit before the Summer of Love. Roger, me and Adrian went with The Almost Blues. Joe Boyd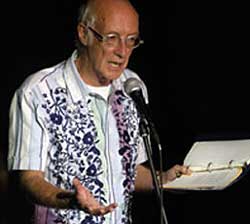 asked us to play the U.F.O. - we did a Liverpool Love night, when it was at The Blarney Club in Tottenham Court Road. London seemed a long way away and what was happening there didn't really affect us. We had our weekly gigs at O'Connors Tavern which was just individuals coming together doing shows. We started getting booked as The Liverpool Scene Poets - it was the book (The Liverpool Scene, Rapp & Carroll 1967) that really focused that. And also the Penguin Modern Poets No. 10 (Adrian Henri, Roger McGough, Brian Patten) came out within a year of that. Initially it was Adrian and Roger particularly, they were really into the performance thing."
In this interview extract Andy talks about
accompanying poets, Adrian Henri, Roger McGough, Brian Patten & Adrian Mitchell
Andy was one of the first people in Britain to use the acoustic guitar as an accompaniment to poetry readings.  It's a difficult art, and he had to work hard at it: 'It took a long time to discover how to reach an equilibrium between the guitar and the poem. For along time I felt that the guitar always had to be subordinate; I wanted to create a carpet for the poem to walk on.  But there wasn't any furniture on the carpet.  Then when Adrian (Henri) and I got closer, he related to the fact that I was there beside him.  We've now reached a situation where the poem is adapted and woven round the music by Adrian in exactly the same way as music is woven round the poem.  That's the really nice thing If I want to go off in a different direction, he'll often improvise sections of the poem, or extend them, to fit them in.  That only really happened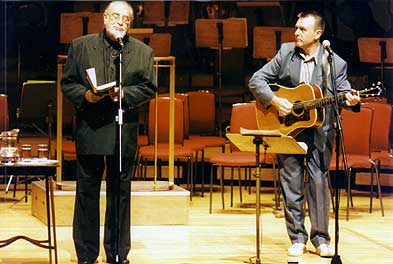 with Adrian: he's the musician amongst the poets I work with.  Roger McGough's poems are more wordy, and he's very metrical, so you can fit a more rigid rhythmic frame-work to them. Brian Patten is different again; he's totally unmusical, so you're really working with him in spite of it.  He doesn't seem to take any notice of the guitar! His pace is different from night to night – as he feels it, he does it.  So you have to work very much to him.  But that's nice in some ways, it's an interesting thing to do.'
Adrian Henri passed away in 2000
In 2011, Andy, Roger McGough and Brian Patten, reunited for a performance to celebrate their final gig at the Everyman Theatre, previously Hope Hall, a venue steeped in history for the Mersey Poets and The Liverpool Scene. The theatre was closing it's doors before a multi-millionpound rebuild.