Adrian was raving about a new musical....
That musical was John, Paul, George, Ringo & .... Bert. I duly went up, and I loved it.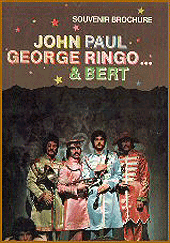 Barbara Dickson singing the Beatles' songs, etc. I found out later how much Adrian had done to promote Willy and that show. He'd written a review in one of the Liverpool papers, Post or Echo, and raved about it.
Willy never forgot how much Ade did for him in those early times. From then on I could hardly be unaware of Willy's career, but the first time I remember actually meeting him properly was after a concert I'd done with Adrian at the Bluecoat Theatre, previewing something we did a lot later on, called Holiday Snaps. This must have been in the early 80s. I just recall Willy being very complimentary, in a helpful sort of way. Constructive, you know.
WORDS ON THE RUN
Then we bumped into each other from time to time at the Liverpool Comedy Festival, doing the Famous Five shows, which metamorphosed into the 2 Words On The Run tours in the 90s. Andy encouraged Willy to sing and play during the Words On The Run tour (1995/97). The tour featured Willy and some old friends from the Liverpool Poets and Liverpool Scene, Andy plus Adrian Henri, Roger McGough and Brian Patten.


[ CLICK IMAGE TO ENLARGE ]
In 2003/4 Andy co-produced CDs by both Willy Russell and fellow playwright Tim Firth.
To promote the CDs, Willy, Tim and their band played two initial gigs in July 2003 at the Walls Restaurant in Oswestry and then travelled to Ireland to appear as part of the Galway Arts Festival.
Later they embarked on a nationwide tour in 2004 with In Other Words, a blend of music, songs, verse, readings and anecdotes, all woven together and performed by Willy and Tim Firth appearing as soloists, as a duo or as part of a six piece band, led by musical director, Andy Roberts.
They also performed a 12 date residency at the Edinburgh International Festival under the banner 'The Singing Playwrights'. And later in the year performed at a 'Live From Liverpool' Radio 2 special for Mike Harding's radio show.
You can read more about the tour HERE.