THE
SINGING
PLAYWRIGHTS
WILLY RUSSELL & TIM FIRTH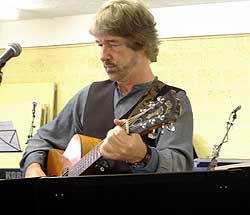 In 2002 and 2003 Andy co-produced albums by the two playwrights Willy Russell (Hoovering The Moon) and Tim Firth (Harmless Flirting).
The Hoovering The Moon project came out of the blue for me. Willy Russell had always confided in me that one day he wanted to make an album of his songs, and that he'd like me to be involved. I did hear that he had started some sort of recording in Yorkshire, and when he rang (late in 2001) I assumed he wanted me to play guitar on these tracks. Then he told me that he wasn't particularly happy with the way things were going, and suggested he come to Brighton for a couple of days to see me, and play through a few things. He came to stay with Tim Firth, which was the first time I met him. We recorded 3 tracks - My Little Sister, These Days, and one which never got developed called The Power Of Love.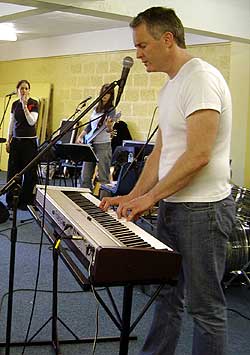 When they left, I worked on, and did arrangements on all three songs, which I duly sent up to Willy in Liverpool. He saw enough merit in the results to ask me if I'd take on the producer's rôle. At that time, Willy and Tim were expecting to make a joint album, 7 songs each, or some such nonsense! My first act was to haul them apart, and make them 2 distinctly separate items. Then we considered how to approach the business of recording, and Willy, who had been using Pro Tools in Yorkshire, decided that was the route to go, which involved re-equipping my studio, and a serious learning curve for me. So it was laid down that we would record Willy's CD, and then go on to Tim's. Work started in earnest in February 2002, and the rest, as they say, is history"
To promote the CDs, Willy, Tim and their band played two great gigs in July 2003 at the Walls Restaurant in Oswestry and then travelled to Ireland to appear as part of the Galway Arts Festival.
Later they embarked on a nationwide tour in 2004 (In Other Words) with Andy Roberts as their Musical Director. They also performed a 12 date residency at the Edinburgh International Festival under the banner 'The Singing Playwrights'. They later performed a 'Live From Liverpool' Radio 2 special for Mike Harding's radio show.
"A blend of music, songs, verse, readings and anecdotes, all woven together and performed by Willy and Tim Firth appearing as soloists, as a duo or as part of a six piece band, led by musical director, Andy Roberts."
The song SAME THING TWICE recorded at the 'Live From Liverpool' session (segued with Willy Russell reading extracts from THE WRONG BOY) has been one of the most requested performances on Mike Harding's show in recent years.