A couple of days ago I went over to Shoreham to see a show hosted by old friend and fellow sessioneer Herbie Flowers, the celebrated bassist on Lou Reed's Walk On The Wild Side. Guest appearing in the impromptu but very accomplished band for Herbie's Jazz Breakfast was an old acquaintance, Chris Spedding. Chris is probably best remembered for his 1975 hit Motorbikin' which can be relived here! - but he has had a long and distinguished career in many aspects of music.
I first became aware of Chris when he was guitarist with Pete Brown's Battered Ornaments – another poetry-based band at the same time as Liverpool Scene in the late 60s. Not long after we were both involved in the sessions for Paul Korda's first album. Paul remains an outstanding singer, and now lives in Los Angeles, following his acting success in the Pirates of the Caribbean movies. Later on, in 1975, I took over from Chris as guitarist with Roy Harper's band Trigger, which soon expanded and metamorphosed into Black Sheep. Chris's playing on Roy's album HQ was a major factor in what has to be Roy's best full-tilt rock outing.
One other thing Chris and I share is the same guitar tech, Bill Puplett. I don't know how long Bill has serviced Chris's instruments, but he has been my absolute rock for well over 30 years, having mended, improved and maintained my instruments for all of that time. Anyway, Bill had done a bit of intelligent sleuthing, and as a result, and after an exchange of emails between Chris and me, I headed for Shoreham last Sunday with my beautiful 1962 Gretsch Country Club, model 6196, Cadillac green!
I had bought this guitar in 1972, at a time that Gretsch instruments were at their lowest ebb in musicians' estimations, for only £180 including a hard case. I have modified it a bit over the years, but it is a stunning sounding beast, which I played with Plainsong, Roy Harper, Pink Floyd and many other bands over the years. It turns out that this same instrument was first bought, brand-new, by Chris Spedding in 1962! He swapped it for a Fender Telecaster in 1969; and then it disappeared from view until I snaffled it on a tip-off (from Craig Bradley of Top Gear in Denmark Street) from a shop in Shaftesbury Avenue called Guitar Village.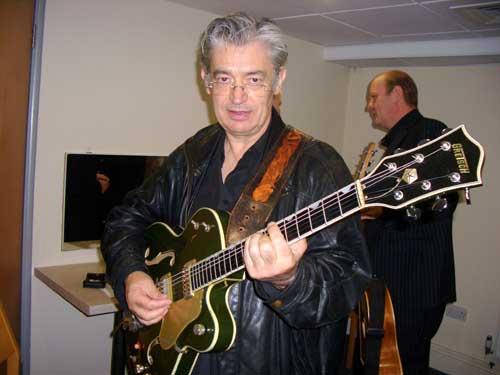 Hence the accompanying picture – Chris Spedding reunited with his Gretsch after 41 years, and only 48 years after he first bought it!
And the point of all this? When I take to the stage with Hank later this week I shall be proudly playing my green Country Club. If we are in your area, come and have a good look at (and cock an ear towards) one of the great classic American country instruments which is only a couple of years away from its 50th birthday!"
ANDY ROBERTS