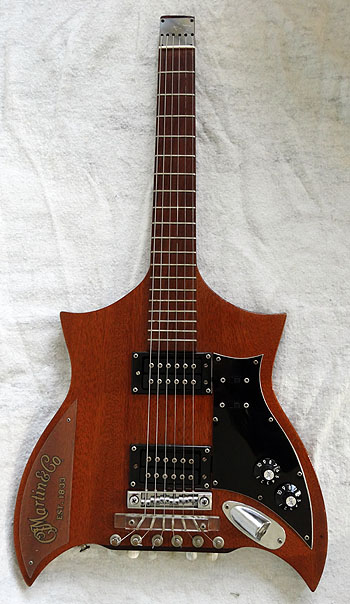 In 1981 I was with my friend John Pearse in his Mum's house in Turnpike Lane.   A strange instrument was leaning against a wall, and I asked him about it.   John said he had picked it up when he was working for Martin in the 70s as a designer, intending to use it as a slide instrument.   It had been designed by John Huber (Dr. John Ross Huber), who had given it to him at Martin.   John Pearse gave the instrument to me that evening, saying I would use it more than he did.

The guitar was unplayable as a regular instrument, due to an extremely high action.   I took it along to Bill Puplett's workshop and explained that I wanted to use it as a quart guitar, tuned A to A, using regular strings, as it was only a short scale (19") instrument.   In order to lower the strings, there being no truss rod in the neck, Bill skimmed some height off the bridge, lowered the pickups and also skimmed the pickup surrounds.   He also redesigned the Perspex block behind the bridge, to fan the strings more towards the tuners, and  inserted metal tubing in this block to reduce friction in the string path. I also had Bill make a thin Perspex cover for the large Martin decal on the body, as I was afraid it would otherwise wear off.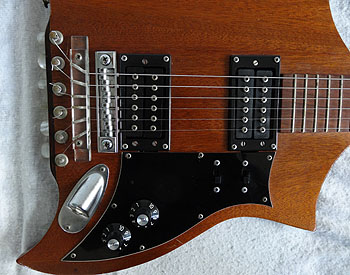 I had got a job playing with Pink Floyd earlier that year, replacing Snowy White in The Wall live shows in Dortmund, and later London, and I had rehearsed at David Gilmour's house, near Henley. David had a serious guitar collection in his studio and loved unusual instruments, so I took the Martin short scale down to show him, and left it
with him.   He subsequently wrote a song with it, Cruise, and recorded it on my guitar for his solo album, About Face.   After the album's release, David asked to take the guitar on tour, but I had visions of it slipping beyond my grasp, and I declined.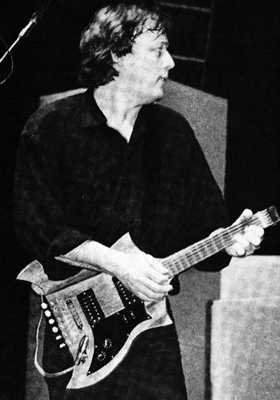 So David and Phil Taylor, his guitar tech of many years, commissioned noted luthier Roger Giffin to make a replica of my Martin.   That is what is in these photos of David.   Roger measured the scale and features as exactly as he could, and built a clone.   My research on the internet places the colour pic of David in Copenhagen, on April 25 1984.   The black and white image (left) is scanned from an issue of Guitar Player magazine, dated November 1984, which had an in depth interview with David, and had a side feature on his guitars, which described the Giffin copy and how it originated.
An interesting footnote is that John Huber refers to the design of the Steinberger headless bass in one of his emails, suggesting (via Jim Dunlop) that it was initially not a wholly serious project!   After he built the Gilmour replica, Roger Giffin went on to design the M-series Steinberger bass in the late 80s, another headless instrument, with a more conventional body shape than Ned Steinberger's original thinline design.   Roger still produces high quality instruments today, which can be found at http://www.giffinguitars.com/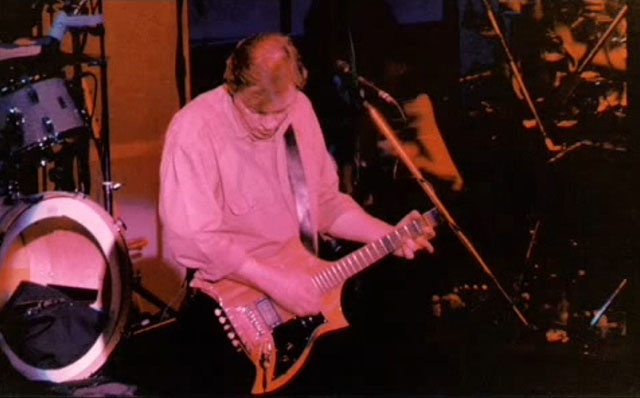 The construction of the Martin, faithfully reproduced in the Giffin replica, is interesting. The body and neck are treated as one, made from 3 pieces of mahogany, glued to make a single piece of wood.   There is no heel to the neck, and no truss rod.The hardware is unusual.   Bill Puplett thinks the pickups are by Bill Lawrence.   They are selected by 2 slide switches on the scratchplate.   The tuners are in a single run from one side of a 12-string head, and the output jack is housed in a chrome Stratocaster jackplate mounted upside down!

I have never suggested that this was a prototype of a Martin production model.   I believed it was an experiment by Dr. Huber, and unique as such.   But I knew it had been built at the Martin factory in Nazareth, PA, and had recognisable Martin features.   It also plays very well.   The fingerboard is unmistakably by Martin, and the giant decal is an obvious clue.   In addition, there is the solid provenance of the connection to David Gilmour, from the time of my involvement with the Floyd.

Now, in November 2014 I'm seriously trying to reduce my storage costs by selling instruments which I no longer play on a regular basis.   Thinking I might sell this guitar, and at the suggestion of my colleague, Iain Matthews, I contacted Brian Wolfe to ask his advice. Brian was not encouraging, when he pointed out "I doubt it is really a Martin proto-type with Fender and Gibson parts and an NS headstock. Employees at guitar companies are allowed to make project guitars in their own time...."

However, at Brian's suggestion I made an approach to Dick Boak, who is director of the museum and archives at the C.F. Martin Co.   He immediately responded, saying "I know about that guitar, in fact I believe several prototypes were made. I believe this was an R & D project by John Huber …………………… in the late 60s, early 70s. I had seen blueprints and photos and although I don't remember the exact circumstances, I think I have seen at least one, perhaps two examples of this guitar."

Further to this initial exchange, Dick made contact with John Huber, who now lives in Sweden, and passed this reply on to me. "I made a few of those, intended mainly as "practice guitars", to use in hotel rooms, or while watching at home TV without disturbing others, etc. The original dimensions came from 1.) what would fit into the suitcase I used then (which, for example, meant cutting off the fingerboard at the 3rd fret), plus 2.) the interface of necessary contact points between my body and the guitar so that I could hold and play it. The originals were made in 3 pieces for easy transport and packing and were assembled with borrowed "lunch box latches". It worked fine, I still use a similar concept. Frank Martin saw them, was amused, and confiscated a couple for his "friends". I probably have a few old photos somewhere. John Pearse saw the original long before he came to the USA, I always travelled with one and John made great fun of finding a name for it. Finally he decided the most appropriate name was "Shithammer" and from then always referred to it as such."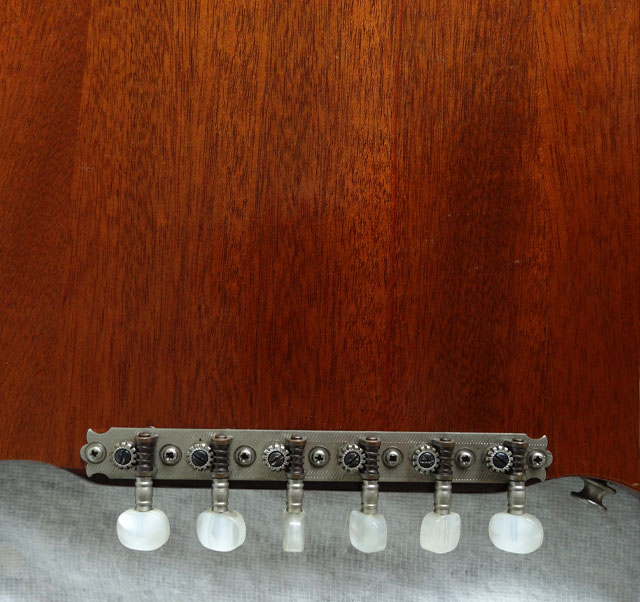 After more research I found an old eBay listing from 18 September 2012, which was selling these 2 examples – "Collectors Items. Unique one of a kind, Early Martin Guitars. These are 2 of 5 , custom made by Martin employee John Huber , for himself and other Martin employees for business travel.

Purchased, by a collector, at the Martin Factory between 1965 and 1976, these guitars have been display pieces and not used instrumentally since. Both are solid folding body of  3\4 "  unknown wood specie. They do not have electronics. Bridge and saddle work appear solid, however the "action" is not suitable for comfortable playing. There is small wall mounting hardware present, on the rear side of each item.
These models have been authenticated in 2010 by Martin employee Mike Dickinson, Exotic Guitars. Appraised at $500 to $750 each.

Further described as:
Guitar 1, Dark color, white buttons, 3.4 lb. This item, condition fair, shows some surface finish checking. There are also a few very small chips on corners and edges. There are no structural cracks and all hardware appears solid. 
Guitar 2, Lighter color, gold snaps, 2.8 lb.. This item, condition good, shows little signs of checking or chips. There are no structural cracks and all hardware appears solid."

The sale was offered with a reserve of $600, and was closed at $999.00, after 4 bids. I have emailed the seller asking for photographs, and to try to find out who made the original purchase from Martin, and why he stated that there were 5 made in total, but sadly he has made no reply.

Dick Boak has been very helpful.   I had asked him if he thought Dr. Huber would mind answering a few questions I had about the Shithammer, and he duly contacted him, getting this reply.
"No problem with more questions, but he might be disappointed with the answers. That "prototype" grew out of my practical needs, the more colorful aspects came out of a few bottles and Frank´s social network, a totally different story.…………………
I do not remember how many I made, perhaps 5 or 6, and a couple more in Europe for needy guitarist friends, the "Martin" examples were all of mahogany, the European with whatever I had at the time."

With the Martin enquiries pretty much completed, I emailed David Gilmour and Phil Taylor, for their recollections of this instrument.   David replied:
"My memory is a bit sketchy. I think that I wrote Cruise from About Face on that guitar. I also wrote the tune that became White City Fighting on Pete Townshend's White City album. I still have my replica version and strum it often. It's strange that it feels so unlike any other guitar when it's basically like any other guitar with a capo on the 3rd fret."

About this second song, Wikipedia says "The track "White City Fighting" originated as a tune written by David Gilmour for his second solo album About Face.[3] He asked Townshend to supply lyrics, but felt that he couldn't relate to them, so Townshend used the song instead, with Gilmour playing guitar.[3] Gilmour sent the same tune to Roy Harper, whose lyrics had the same effect on Gilmour.[3] Harper used the result, "Hope", which has a markedly slower tempo, on his 1985 album with Jimmy Page called Whatever Happened to Jugula?."
Phil Taylor was also very helpful.   He sent me photos of the Roger Giffin replica, along with a picture of the original requisition order, and these memories:

".. yes I remember this well.
You turning up at Hook End and leaving the guitar for David to try and our discussions at the time of whether we thought it was really a Martin or not. David did indeed use it as soon as he got it - he wrote a song - as you remember correctly - that was then on 'About Face'.
I think you then asked, several weeks later, about getting it back so we decided to have a replica made as the project was ongoing and we would be planning to tour the album when it was finished. I asked Roger Giffin to undertake making a copy - not exact in every detail but close when I now compare the photos. David still has it - see photos. We just called it the ' Giffin A'."

Most recently, in the last few days, I was able to get together with David Gilmour, my Huber Martin, and his Giffin replica, all in one place!   So, fittingly, here are these 2 remarkable survivors, reunited on 25th November 2014 in David's studio.
Dr John Ross Huber lives in Stockholm, having enjoyed a remarkable academic career as a musicologist.   His book The Development Of The Modern Guitar is an in-depth, but highly readable short text on the design and construction of the "Spanish" guitar over the last 2 centuries, and cannot be recommended highly enough.   He is rightly revered for the design of the classical model Martin N-20, one of which was purchased in 1969 by Willie Nelson, who calls his Trigger.

Out of interest, here is an article about Willie's guitar,
http://www.texasmonthly.com/story/trigger?fullpage=1
And here is an N-20 for sale at auction, and what a beauty she is -
https://www.laguitarsales.com/pages/3163/Martin_N_Prototype.htm
John Huber, responsible for the N-20 and the Shithammer!   That's an achievement.
As I mentioned before, I have to reduce my storage costs, and it is time for this remarkable guitar to find a new home.   I couldn't begin to suggest a price, but I am happy for anyone who is genuinely interested in owning it, with its unique connection to John Huber, the Martin Guitar company, John Pearse, Roger Giffin and David Gilmour (and Pete Towshend lurking, later), to contact me at andy@andyrobertsmusic.com, where I will consider any serious offer for it.   With the exception of this one, and David Gilmour's replica, I have yet to find another playable example in the world, making this one of the rarest, and strangest, instruments to ever emerge from the celebrated Martin works.
ANDY ROBERTS (November 2014)