EVERYMAN HOSTS STAR-STUDDED GALA
The 40th Birthday celebrations are not over yet for the Everyman Theatre. On Sunday 21st November, the Everyman will host a star-studded Gala which will be a fundraising event for the Life Begins Fund for new Liverpool writing.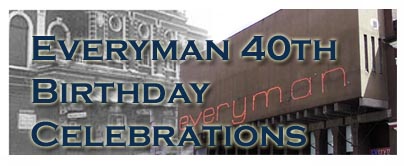 Old friends of the theatre will be returning to the Everyman for a celebration of all that has made it a leading theatrical force, a Liverpool original and a national treasure. The Everyman has been the launchpad and spiritual home for a huge range of theatrical greats, and those returning for the Gala include: Julie Walters, Anthony Sher, Bill Nighy, Matthew Kelly and Jonathan Pryce. The theatre's original founders; seminal Liverpool playwrights Willy Russell and Alan Bleasdale; great one-off's such as Ken Campbell and Bill Drummond, and musicians including Andy Roberts, Ian McCulloch and Pete Wylie will also be coming home for this unique evening.
Deborah Aydon, Executive Director, said: "All season, we have been celebrating the Everyman's past and present, but also, and most importantly, building for the future. The Life Begins Fund will allow us to commission two new Liverpool playwrights each year in the run-up to 2008, making a tangible investment in new talent and nurturing new work for the Everyman stage. This event alone has the potential to raise over £20,000 towards this Fund."

The Gala is the perfect climax to the 40th Birthday celebrations. It's a time for all old and new friends of the theatre to get together for a wonderful celebration of the talent it has generated.
REVIEW
Many of the country's finest stage and screen actors gathered at Liverpool's Everyman Theatre last night for the most star-studded night in its history.
The theatre was celebrating its 40th anniversary and had invited past performers who had worked there early in their careers.
Actor Sir Anthony Sher was there - reading an extract from his autobiography about his time at the theatre - while others performed extracts from plays and musicals they had last performed at the Everyman many years ago.
Matthew Kelly and Julie Walters appeared in Mike Stott's comedy Funny Peculiar, one of the early Everyman successes.
In other performances, George Costigan worked alongside David Fielder for the first time in 30 years.
The shows had been put together by current artistic director Gemma Bodinetz to mark the theatre's anniversary - and to raise money to help commission new plays from Liverpool writers.
She said: "The atmosphere is extraordinary. There were a lot of tears backstage - of the best kind.
"But what a night - it is like a wedding and Christmas on the same day."
Also there was former artistic director Ken Campbell who told how he turned a taxi driver into a stage star.
The driver in question, Carl Chase, was Campbell's choice to play country star Hank Williams in the play Hank Williams, The Show He Never Gave.
Actor Mark McGann arrived for rehearsals clutching a huge guitar case. "It's quite fazed me meeting all these people again," he declared. "It's really something."
He went on to perform an extract from the musical play Lennon in which he played the tragic Beatle.
John Gorman, Mike McCartney and Andy Roberts were there to recreate the Scaffold group while international stage and film star Jonathan Pryce sang songs from early Everyman productions of The Caucasian Chalk Circle and Mind Your Head in which he appeared. With him were colleagues from the same productions, Gillian Hanna and Richard Williams.
Pryce's actress wife, Kate Fahy, whom he had met at the Everyman, also appeared on stage in extracts from Funny Peculiar. Recent productions from the Everyman were also featured with Kevin Harvey in Yellowman and ex-Brookside actress Denise Gough in Liverpool writer Tony Green's The Kindness of Strangers.
The Everyman Theatre, based on the old Hope Hall in Hope Street, had been started in the 1960s by three graduates, Peter James, Terry Hands and Martin Jenkins.
It opened - with staff still painting the stage floor - on September 28, 1964. It was to become one of the most talked about theatres in Britain, particularly in the 1970s when Alan Dossor became artistic director. Along with great actors and directors, it also created great writers like Willy Russell and Alan Bleasdale, both of whom were there last night.
Bodinetz admitted her role last night was running about and seeing that everybody was happy. It seems both performers and audience were.
She said: "There has been a lot of raw emotion around tonight."
PHILIP KEY - LIVERPOOL DAILY POST