Bob Ronga – a reminiscence
The news that  Bobby died on 12 November 2012 only reached us a week ago.   I got the story mainly from this obituary, http://www.legacy.com/obituaries/dailyfreeman/obituary.aspx?n=robert-r-ronga&pid=161046618.   Before I found it on Google I had only heard rumours that all was not well – we had heard he had been in hospital back in September when we were making our final shows in the UK, but I had no idea things were to end like this.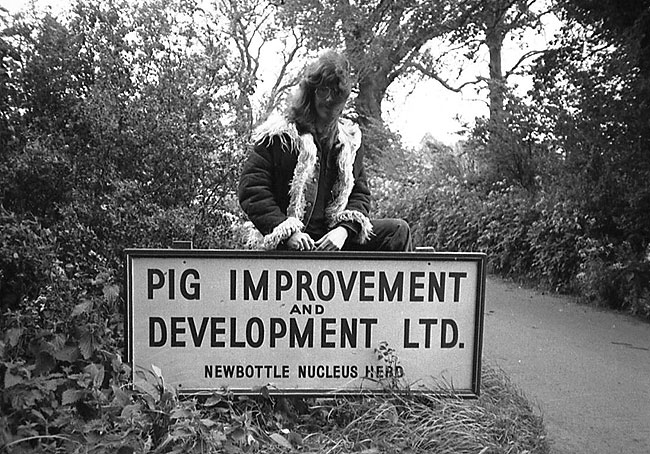 Now it falls to me to write some words about Bob, and I realise that I can only write about the 24 year old man that I met in 1971, and last saw in 1972, not the 65 year old man we mourn today.   It is a fact of our life as musicians, and it may well be true in all walks of life, that the pressures of creation and performance forge bonds that are heightened by the moment.   I meet people whom I have shared those moments with, sometimes 40 and more years ago, and we are still tightly bound together by that common experience.   I spoke to Bob on the phone many times in these latter years, and we always had stories to recall, of places, people, journeys and events.

I met Bobby in New York, when I was working with Iain Matthews in the US in the late summer of 1971.   Iain had taken Richard Thompson and myself out as his accompanying players, and Bobby was our driver and tour manager.   During our rehearsals at Vanguard Studio, 71 W23rd St, we found out that he was a player and singer as well, and we invited him to play bass on some of the set.   He was a great asset – he didn't hold back, and contributed a fine, muscular bass line to the show.

A couple of months later I was scheduled to tour, supporting Steeleye Span, in order to promote my album Nina And The Dream Tree.   David Richards had been my choice of bass player for most of the preceding 18 months, but he had been snapped up by Sandy Denny for a tour at the same time, leaving me at a loss as to who would be a suitable replacement.   I suggested Bobby to my manager, Sandy Roberton, and he made the necessary arrangements for him to come to the UK to work – not so easy in those days, when the Musicians' Union insisted on "reciprocal arrangements".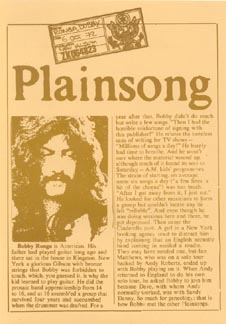 Anyway, sometime in October Bob arrived, and he stayed with me at myparents' house as we rehearsed and then toured, playing the big halls in every town we visited.   The work was a joy.   We hit it off in all respects, both musical and personal, and as soon as the tour was done we got into the studio to start work on what became (much later!) the album Urban Cowboy.

Iain Matthews had been to several of the Steeleye shows, and it was his idea that Bob and David, along with the two of us, should try rehearsing as a band to see what might happen.   It is a matter of record that we got together to produce a version of Along Comes Mary one day in December 1971, and the result speaks for itself – Plainsong was born that day, though it took another couple of months to emerge as a full time working unit.   The year, 1972, remains to this day a remarkable period.

We got took on Harry Isles, who was invaluable as a sound man and driver (and official photographer, with his Russian camera), and rehearsed at Cabin Studios, off Shepherds Bush Green - solid all day rehearsal for a month, before we emerged from the chrysalis.   In those days there was a rich vein of colleges to play at, and our agent, Geoff Jukes at Gemini, crammed them in.   Within a couple of months, Frank van der Meijden had taken us to Holland, starting a chain of acquaintance that has led to Iain living there, even now.   We were totally immersed in those first few months.   Recording, radio shows, endless touring, the Old Grey Whistle Test, we were young and keen back then.   And Bob with his big old Gibson B-12 guitar was a rock.   He and David swapped on the bass.   They both played piano as well.   We were a finely balanced unit as we prepared for and then recorded In Search Of Amelia Earhart.

During that time Bobby bought an Afghan coat, which he loved.   He never took it off, it seemed, and the longer he wore it the more it smelt of goat, or whatever it was made of!   But he never cared; maybe never even noticed!    It lurks ominously in so many pictures from that time.

We probably worked too much.   By the summer we had added Roger Swallow on drums, trying to progress, to find that elusive thing that musicians strive for.   It was always tantalisingly out of reach, and the tensions built; the second record was problematic.   Sometime in September, Bobby had enough, and left the band – Roger left soon after.   Iain , David and I soldiered on, but the writing was firmly on the wall.   By December we were in disarray, and the first Plainsong was over.

I hardly saw Bobby after that.   He had married Jill to be able to stay in the country, and for a time, at least, he was getting decent session work.   He was, after all, an irresistibly good player, with a really strong hand of musical cards.   But it wasn't enough, and without the regular work the band provided, he was off back to the US.   I never saw him again, and for many years we didn't communicate at all, so much so that when in the 1990s I heard rumours he was dead I just assumed it was true.   Then in 2003 at the Tonder Festival in Denmark, Allan Taylor told me he was still in touch with Bobby, and put us back in contact again.   Long, rambling phone calls followed.    He had married Sue and together they had a son.   And now he is gone.

As I said at the beginning – I mourn a man of 65, yet remember a youngster of 24.   Such is life, and death.   Many of us will never forget Bobby's music – he had a precious talent, and I am grateful to have found him as I did.   Sleep well, old friend.
Andy – 15th January 2013