Teaser and the Firecat
It has always been a disappointment that my appearance on Cat Stevens' album Teaser And The Firecat was uncredited. After all it was in 1971, when I was at the start of my career still, and the record went on to triple platinum status (sales over 3,000,000 worldwide). Steve apologised several years later, and it was easy to see how it happened.
It was at Morgan Studios in Willesden, and I had just finished a session with Iain Matthews, with Paul Samwell-Smith producing. The next session in was one with Cat Stevens, who was also produced by Samwell, who had just block-booked the studio for the day. I was packing up my instruments when Alan Davies came in. He was an old friend; we had met playing with Jeremy Taylor in the late 60s. I was keen to show Alan the Kriwaczek String Organ, of which I had the only prototype, and eventually we started playing guitar together. Then Cat Stevens bowled in cheerily; I was going to leave and let them get on, but Steve told me to stay and listen to this new song he had written, How Can I Tell You. I played along with Steve and Alan. Next thing, the engineer (Robin Black?) had miced us all up where we were, and the thing went to a take. It was finished very quickly. Then I was asked to put a solo on with the Kriwaczek, and that was it. I reckon I was out of the door within half an hour. Anyway, I was very surprised to find that the track was on Steve's Teaser And The Firecat when it came out. But no credit!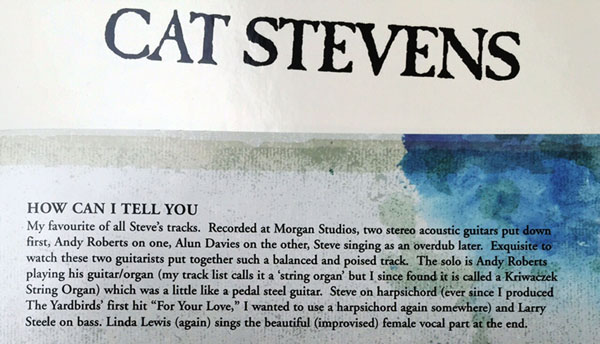 Yesterday, David Suff, the head of Fledg'ling Records, who is releasing Reinventing Richard (and let us not forget, who paid for it), sent me the attached pic of a liner note by Paul Samwell-Smith, taken from a 2010 double re-release of Tea For The Tillman and Teaser And The Firecat. Recognition at last, only 44 years too late!
August – 20th August 2015