PINK FLOYD
"The following are extracts from interviews ...

Spencer Leigh: I told Andy that the last time I met him was just after he joined Pink Floyd!

AR: Joined - I wish! I was playing with Roy Harper who is very pally with Dave Gilmour. Dave came to see a show that we did in London at the Dominion Theatre at the end of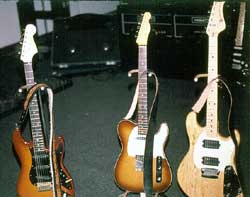 1980 and it just co-incided with the time that Snowy White joined Thin Lizzy. He'd been playing the Wall with Floyd and had done all the initial shows. Luckily for me he wasn't available for some extra dates that they'd added to the end of the Wall tour, well it wasn't a tour really, they played Los Angeles, New York and London. That was it, that was all they expected to do - those 3 places. Then they got an offer they couldn't refuse, to go and play in Germany, or do Europe basically, where they set up in Germany and all of Europe came to them. And they needed a guitarist, Dave had seen me play and I was using a lots of effects pedals and stuff like that and he knew I was a reasonable bloke and so he phoned me up and offered me the job. I was very reluctant, it took me about 2 seconds before I agreed.
Spencer Leigh: Were the gigs of a size that you'd never played before?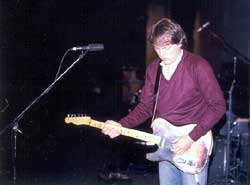 AR: Yes, I've never done anything like that before. It was actually terribly interesting because, it is that classic stadium rock. It was an eye opener, I loved doing it and it was encouraging in many ways. They treated me very nicely, they paid me lots of money and they treated me like an adult.
They just respect you and let you get on with it. But the expectation is that you are going to deliver.
From an interview with The Ptolemaic Terrascope 1992

"The Floyd had expanded to an eight piece, so they had a surrogate band... you got The Floyd, and then Pete Woods on bass, Willy Wilson on drums, Andy Bown playing keyboards and myself on guitar.
The whole first part of the show they had to build The Wall, so it would take longer some nights than others - there were pad areas built in where Dave and I would just jam until certain sections were completed, then it was time to move on to the next bit. It had to be organised so that the last brick went in on the last note of the first half.
Because of my involvement with theatre it was interesting to see - it was a theatrical event."