YELLOW DOG
"I had known Herbie Armstrong for several years. He used to be in a duo with Rod Demick, called, surprisingly, Demick and Armstrong. Herbie and his wife Susannah were great friends with Tony Brainsby the publicist. I would occasionally hang out at the Brain's office, and so would Herbie. Incidentally I hired Tony to work on The Great Stampede album and he did a great job. Only problem was that EMI didn't!
Anyway I met Kenny Young much later on. I think it was around the time I did the Robert Calvert sessions in April 1975, which became Lucky Leif and the Longships. Kenny hired me to play a session in the main Island studio at Basing Street. I don't recall if it was an early Yellow Dog track. More likely it was for Fox which was the main, pop-orientated band he had.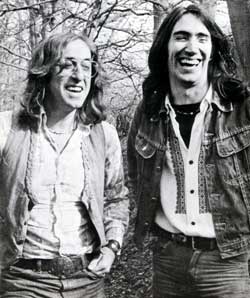 We settled into a pattern where I would go out to his place in Brailes, near Banbury, and record in his home studio, which was small but pretty good. I introduced him to Gerry Conway, who became drummer for Yellow Dog; Herbie and Kenny were there too of course, and the bass player was Gary Taylor, with whom I later worked for 3 years with the Hank Wangford Band. Occasionally Jim Gannon the Fox guitarist was involved.
I would mainly go back to London the same day. On odd occasions I was billeted for an overnight stay in a small hotel down the road. It was a very good arrangement. Kenny's pad was extremely comfortable, the money was handy, and he had a greenhouse full of marijuana plants. Can't fault it, really.
The sessions carried on for some months. We worked on many tracks, some of which became Fox tracks, and some for Yellow Dog. We never knew at the time which project they were bound for and neither did Kenny and Herbie. The songs were all written by Kenny or Herbie or both of them.
I think my involvement was all done by the end of summer 1975. They did tour with Yellow Dog, but I wasn't involved. I haven't seen Kenny from that day to this. Herbie and Susannah moved to Portugal to raise horses, which they were always mad keen on.
That's the whole story in a nutshell. Herbie did end up for a time as rhythm guitarist in Van Morrison's band. Good gig for him. My personal favourite is My Lady on side 2 of Yellow Dog, one of Herbie's songs.
Other snippets: Kenny Young wrote Under The Boardwalk when he was 16.
I have nothing but the happiest memories about the whole period."
ANDY ROBERTS