A Brief History of the Band
Plainsong was a country rock/folk rock band formed by Andy Roberts and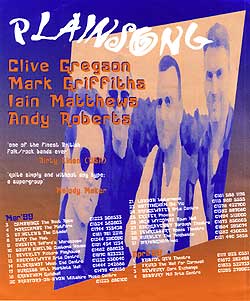 Iain (then Ian) Matthews in early 1972, along with Dave Richards, and Bob Ronga. Following the release of their classic LP "In Search Of Amelia Earhart" the group toured extensively and then set about recording a second album. Before these sessions were completed the band disbanded. In less than a year, Plainsong had been born, made an indelible mark on musical history and then disappeared.
Fast forward eighteen years and Iain and Andy meet up in a Brighton pub and decide that the time is right to revive Plainsong. They recruit Mark Griffiths and Julian Dawson and released three albums from 1992 to 1996 and build up a strong following, a combination of fans of the original line-up, of solo projects by group members and people hearing Plainsong for the very first time.
In 1996 Julian left the band to concentrate on his solo career. Clive Gregson joined and Plainsong version 3 was formed.
Two years later the nucleus of Plainsong, Andy and Iain, record a mini CD entitled A to B (Amsterdam to Brighton - where Iain and Andy live!) and tour the UK as a duo. (version 4)
And in 2003 Julian rejoins Plainsong and together with Mark Griffiths form version 5 and record Pangolins and again embark on a UK tour to promote the album.
2012 will be the 40th anniversary of Andy Roberts and Iain Matthews forming Plainsong with Dave Richards and Bob Ronga and also the release of the legendary 'Amelia Earhart' album.
To celebrate, the band will be releasing a live studio album, 'Fat Lady Singing' (on the Blue Rose label) and touring Europe and the UK in August and September. The sad news is that this will be a farewell tour for Plainsong, as it has become harder to pin down the four current members in one place, let alone schedule dates for touring.
And finally, finally... (never say finally)
Andy, Iain and Griff's REINVENTING FARINA CD was released in September 2015 and a tour undertaken across America, Europe and the UK in 2016.
Discography