1 Home (Matthews)

2 Save your Sorrows (Matthews)

3 Nobody eats at Linebaugh's anymore (Hartford)

4 Miss the Mississippi and you (Halley)

5 Urban Cowboy (Roberts)

6 Old Man at the Mill (trad. Matthews, Roberts)

7 Goodnight - Loving Trail (Philips)

8 First Girl I Loved (Hartford)

9 Bold Marauder (Farina)

10 All around my Grandmother's Floor (Evans, Roberts)

11 That's All it could amount To (Matthews)

Live

12 Nobody eats at Linebaughs's anymore

13 Home (Matthews)

14 Old Man at the Mill / Charlie (trad. Matthews, Roberts)

15 Bold Marauder (Farina)
MUSICIANS:

Andy Roberts

Iain Matthews

Dave Richards

PRODUCED BY:

Plainsong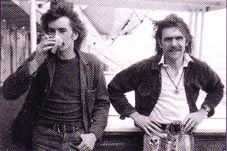 In November 1971, after warily circling each other for 3 months, Iain and I met in his Highgate flat, along with David who was currently on tour with Sandy Denny, and Bobby Ronga who had come over from America to tour with me, to explore whether we were capable of doing what we knew we wanted to do as a band of singers and players.
We had decided that if we could come up with an original acoustic arrangement of the Tandyn Almer song, "Along Comes Mary", then we were qualified to demand your money in the months (and years) ahead! David played electric bass, Bobby was on 12-string, while Iain and I filled in the gaps, behind the lead vocal.
By 3.30pm we knew we had a band, soon to be called Plainsong: the name came a few days later when Iain picked up a dictionary, and it fell open at 'Placebo - Plane', and there was the entry for PLAINSONG - 'Unmeasured music sung in unison. adj. Singing a simple theme.' Curiously, we never released "Along Comes Mary", maybe it wasn't simple enough.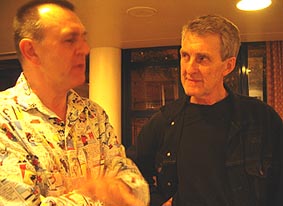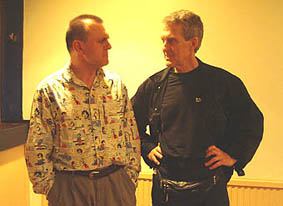 For the release of 'AND THAT''S THAT', Andy wrote...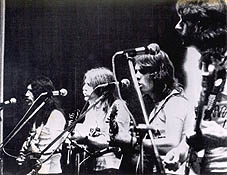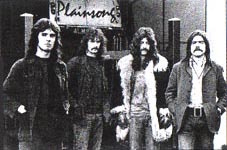 HARRY ISLES
The photographs above of Plainsong in 1972 were taken by Harry Isles, who was Plainsong's Manager, Driver, Roadie, Soundman, Photographer and (according to Andy!) all round grown-up. Harry is still involved in the music industry and in 2004 met up with Andy at the Willy Russell and Tim Firth show, 'In Other Words', at Northampton's Royal Theatre.

Two photos (left) : Paul Cary